ARC FOLDING CLUTCH LEVER FOR KTM / BREMBO
ARC LEVERS ARE THE WORLDS' FIRST FOLDING/ADJUSTABLE CLUTCH AND BRAKE LEVERS.
NOW AVAILABLE IN ALUMINUM AND TRULY UNBREAKABLE MEMLON COMPOSITE, ANOTHER WORLDS' FIRST.
Description
ARC levers are the worlds' first folding/adjustable clutch and brake levers.Now available in aluminum and truly unbreakable Memlon composite, another worlds' first.
CL-203 CLUTCH: The Brembo clutch master cylinder is standard on many KTMs and Husqvarnas. This lever has more reach adjustment and the rotating feature aids in reducing crash damage.
MEMLON is the trademarked name for the material used in ARC's composite levers. By the lever design it is strong enough to do the job yet resiliant enough to take severe abuse without damage. Check out the lever video that shows how you can bend the lever and bend it back without any signs that the lever was ever damaged. It took over $100,000 in developement and 28 different formulas to find the right material composition. Now through our ARC's work you can have a truly unbreakable lever on your bike. You will never have a lever problem again. Remember,  IF YOU BEND IT, BEND IT BACK, and keep riding!
The new composite levers look factory and have a better feel than an aluminum blade. They are lighter by about 45% and can take a lot more abuse than conventional aluminum levers.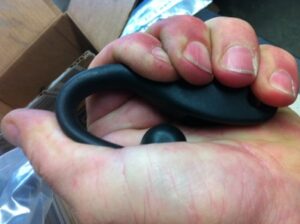 IT CAN'T BE TRUE! Yes, you can wad these levers really hard for more than 50 wrenchings like this and they still have no wrinkles or signs of diminished strength. This particular lever has been bent over 25 times to show that after many bending/straightening cycles they are still good to go. These are truly unbreakable levers. As said above, it is the shape of the lever that allows this to happen. The lever is really strong where the tapers meet at the finger portion of the lever. The tip can flex in a crash but where you need it to be strong it is.