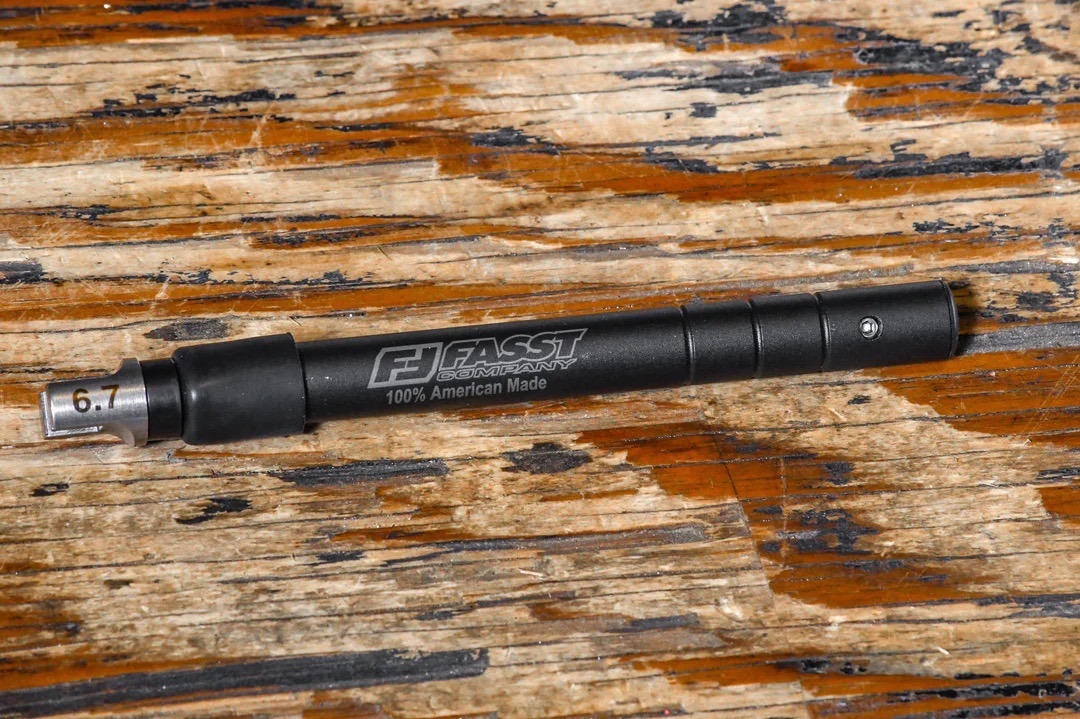 FASST COMPANY SPOKE TORQUE WRENCH
FasstCo.  introduced the Spoke Torque Wrench, an industry first, in the summer of 1998. At that time wheel maintenance was uncharted territory and we quickly realized the value of providing an even pull throughout the entire wheel. We manufacture the wrench in-house in our machine shop, it's 100% American Made by riders for riders. After assembly each wrench is tested and calibrated to ensure accuracy and consistency.
Description
MAINTAIN YOUR WHEELS LIKE A FACTORY MECHANIC!
Take The Guesswork Out Of Wheel Maintenance
FasstCo.'s preset Spoke Torque Wrench comes set at 48 inch pounds. 48 inch pounds isn't abusive to your wheel's components and won't loosen up rapidly on severe impacts. The wrench can be preset to your specifications or use the recommended 48 inch pounds which is ideal for everything 85cc on up. 36 inch pounds is best for 65cc and smaller.  We're always happy to discuss your torque concerns, call us at any time.
The full wrench head kit includes the most popular head sizes for modern dirt bikes and now ships with 7 Heads (5.0, 5.6, 6.0, 6.2, 6.5, 6.7, 6.8). We have other wrench head sizes available should you need them.
Features:
ELIMINATES GUESSWORK

Eliminates the guesswork of wheel and spoke maintenance.

PROVIDES PROPER TORQUE

Provides an even pull throughout the wheel for maximum strength.

USED BY FACTORY RACE MECHANICS

The wrench of choice for Star Yamaha, HRC Honda, RedBull Ktm, Pro Circuit Kawasaki, HEP Suzuki, TLD GasGas and more.

PREMIUM QUALITY & WARRANTY

The Spoke Wrench and Heads are produced in-house out of premium tool steel, heat treated and processed to provide accuracy year after year.  We offer a Lifetime Warranty on the Wrench and Heads. Misuse, modification, abuse or neglect will not be just cause for warranty.
What's in the box:
Wrench only – Spoke Torque Wrench in plastic case with slots for heads. Complete spoke maintenance instructions including the pattern of the wheel. To add individual wrench heads click HERE.
Complete Kit – Spoke Torque Wrench & 7 heads. Comes in plastic case for wrench and all heads. Complete spoke maintenance instructions including the pattern of the wheel.
Application Chart 
Beta
Wrench Head Size
All
6.8 F/R
BMW
Wrench Head Size
GS 650
5.6 F, 6.0 R
GS 800
6.0 F, 6.8 R
Gas Gas
Wrench Head Size
Gas Gas – older models
6.0 F/R
Trials bikes
6.0 F, 6.8R
2015-2019 Moto/Off-Road
6.0 F, 6.8 R
2020+ Full Size Models  85cc+
6.8 F/R
50/65: all
5.5 F/R
Honda
Wrench Head Size
CR 125/250/500: up to 01
6.0 F, 6.3 R
CR 125/250: 02-07
6.0 F, 6.5 R
CRF 250/450: 02-present
6.0 F, 6.5 R
CR 85/150: 07 current:
5.6 F/R
CR 80/85: up to 2010
6.0 F/R
XR 250/400/600/650R: all
6.0 F/R
XR/CRF 80/100: all
5.0 F/R
CRF 150/230: all
5.6 F/R
XR/CRF 50: all
4.0 F/R
* The 6.0 and 6.5 Heads are the correct Heads to use with our wrenches on any Honda calling out for either a 5.9 or 6.4 head size.
Husqvarna
Wrench Head Size
65
5.5 F/R
85/105
6.8 F/R
All models: up to 99
6.2 F/R
All models: 00-05
5.6 F, 6.0 R
All models: 06-present
6.8 F/R
Kawasaki
Wrench Head Size
KX 60/65: all
5.0 F/R
KX 80/85/100: 99-10
6.0 F/R
KX 125/250/500: up to 99
6.0 F 6.3 R
KX 125/250/250F: 99-04
6.7 F/R
KX 125: 05-07
6.7 F/R
KX 250: 05-07
6.0 F 6.7 R
KX250F/450F: 06-present
6.0 F 6.7 R
KLX 250/300: all
6.0 F/R
KDX 200/220: all
6.0 F/R
KTM
Wrench Head Size
All full size models
6.8 F/R
85/105
6.8 F/R
50/65: all
5.5 F/R
Suzuki
Wrench Head Size
RM 85: all
5.0 F/R
RM 125/250/RMZ250F:00-04
6.2 F, 6.7 R
RM 125/250: 05-present
6.2 F, 6.7 R
RMZ 250F/450F:05-present
6.2 F, 6.5 R
DR/DRZ 250/350:all
6.0 F/R
DRZ 400: 00-present
6.2 F, 6.5 R
TM
Wrench Head Size
Moto/Off-road
6.0 F/R
Tusk
6.5 F/R
Yamaha
Wrench Head Size
YZ/WR 125/250/400:up to 99
6.0 F, 6.2 R
YZ/YZF/WR 125-250 / 250-400-426-450F: 99–04
6.2 F, 6.7 R
YZ 125/250: 05-present
6.2 F, 6.5 R
YZ/WR 250F/450F:05
6.2 F, 6.7 R
YZF/WR 250F/450F:06-present
6.2 F, 6.5 R
YZ 80/85: all
5.6 F/R
YZ 65
5.0 F/R
TTR 250: all
5.6 F, 6.0 R
TTR 125: all
5.6 F/R
TTR 50: all
4.0 F/R
HARLEY-DAVIDSON**
Wrench Head Size
Pre-1980 **
5.6 F/R **
1980 to current **
6.0 or 6.2 (see below) **

We have narrowed down the Harley-Davidson applications to 3 sizes, 5.6, 6.0, and 6.2. This has been very difficult due to the vast number of units sold. Above are the head sizes that Harley Davidson orders from the most us  / FasstCo. as well as the general size by decades.

Rad Wheels require a 6.2mm head.

Warp 9 Wheels require a 6.8mm head.

If you have any questions or feedback shoot us an email or call so we can get you the correct head for your wheels.
Chart Key
F – fits front
R – fits rear
F/R – fits front and rear
Head sizes: 4.0, 5.0, 5.6, 6.0, 6.2, 6.3, 6.5, 6.7, 6.8, 7.4 and Spline Drive.
FasstCo. make heads to fit most nipple sizes. If your model is not listed or if you have any questions please call us at (253)-569-8222
Frequently Asked Questions
WHY DO I WANT TO MAINTAIN MY WHEELS WITH A SPOKE TORQUE WRENCH?
Maintaining your wheels with spoke torque wrench allows an even pull over the whole wheel allowing for loads to be distributed evenly throughout the wheel. Without an even pull the wheel will pull to the tight spokes becoming un-true, out of round or bent. The Spoke Torque Wrench makes it very easy to maintain your wheels properly, inspiring confidence that the wheel has been serviced properly.
WHAT IS SO SPECIAL ABOUT THIS TOOL?
Fasst Company's Spoke Wrench Heads are designed to fit both the width and height of the nipple. This often over looked fact allows a greater purchase of the wrench head onto the nipple eliminating rounding off, cracking or deformation of the nipple while servicing your wheel. Milled to exacting tolerances to fit your bikes specific nipples, the heads come with a lifetime warranty. FasstCo's heads perform so well that other manufactures have not only knocked off our wrench and head designs (with shoddy import quality) they specifically tell customers to purchase our heads from us when theirs fail.
WILL IT SAVE ME MONEY?
A Spoke Torque Wrench will save you money in the long run as you extend the life of your wheel, barring some catastrophic impact. When we were testing the validity of the spoke torque wrench we were able to use our sample rims significantly longer than before the wheels were maintained with a spoke torque wrench.
CAN MY KIDS USE THE TOOL PROPERLY?
Yes, the spoke torque wrench is a great tool to allow kids to do maintenance on their own bikes. If you can read and follow directions you can successfully maintain your wheels with a Fasst Company spoke torque wrench.